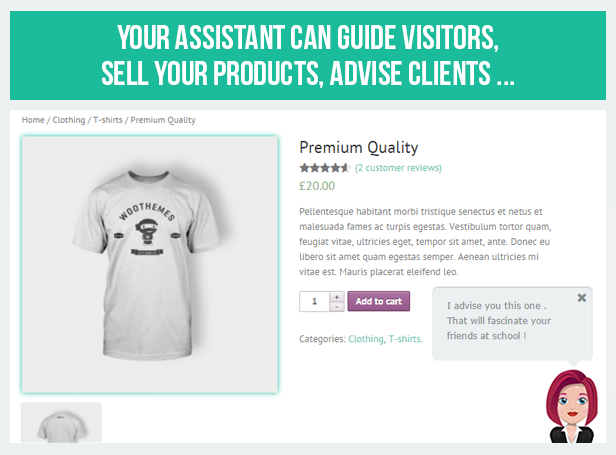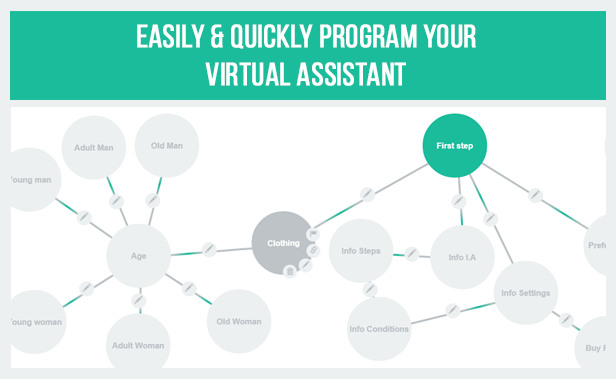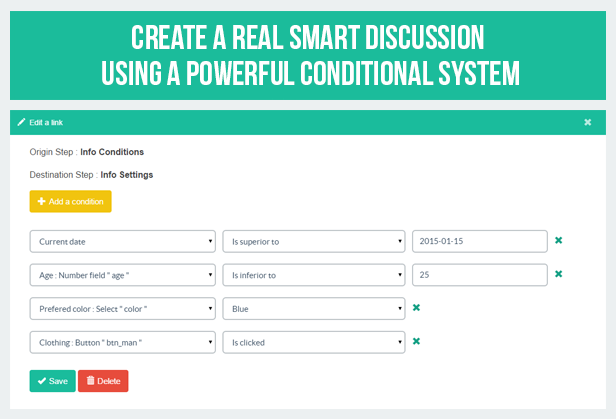 TRANSFORM YOUR USER ENGAGEMENT WITH WP VIRTUAL ASSISTANT
Take a leap into the future of user interaction with the WP Virtual Assistant. Built to redefine digital experiences, this unique WordPress plugin delivers a tailored dialogue system, crafting an immersive journey for every user.
This unique WordPress plugin adds a virtual smart assistant on your website,and allows you to easily program his behavior by using its powerful & visual conditional system.
An assistant can be created to intelligently sell products, advise and inform your customers, guide them on the website etc …
It can show elements of the website, redirect to specific pages, send the discussion to admin by email, send all the interactions to a specific php page (useful to fill a form with the user's answers) .
Discussion is composed in steps. Each step can contain text (displayed in the bubble), actions and interactions (text fields, number fields, select dropdown, buttons …) .
A smart import/export system allows you to easily backup, transfer and recover your data .
UNMATCHED FEATURES THAT SET YOU APART
Engage Efficiently: Offer unparalleled assistance and elevate user experience with this versatile virtual assistant.
Powerful Conditional System: Design dynamic interactions with an intuitive visual system, making conversations more engaging and smart.
Personalize with Ease: Modify the assistant's style directly from the backend, ensuring it aligns perfectly with your brand identity.
️ Custom Avatars: Switch graphics with a simple click, selecting from your own collection or our extensive gallery.
Positioning Flexibility: Choose the best spot for your assistant, either the bottom right or left corner of the screen.
WPML Integration: Cater to a global audience with easy translation capabilities. Backend translations in both English & French included.
Import/Export Functionality: Backup, transfer, and restore your data effortlessly.
Preview Mode: Test and perfect the assistant's functionality before showcasing it on your website.
Seamless Compatibility: Works smoothly with WP Creative Banners Builder.
Dedicated Support: Experience top-tier, responsive support ensuring you get the most out of your WP Virtual Assistant.
Interactive Options at Every Step:

Redirect to a designated page
Execute specific Javascript code
Highlight website elements
Forward dialogue content via email
Transmit previous interactions as post variables to a page

Diverse Interaction Fields:

Text inputs
Numerical fields
Dropdown selectors
Clickable buttons